CONVENIENCE FOR THE WORLD OF BUSINESS
The City Bank MasterCard® Business Debit Card gives you the flexibility to use your business checking account without the hassle of writing a check. Enjoy a simple payment solution anywhere MasterCard is accepted.
CONVENIENCE FOR THE WORLD OF BUSINESS
The City Bank MasterCard® Business Debit Card gives you the flexibility to use your business checking account without the hassle of writing a check. Enjoy a simple payment solution anywhere MasterCard is accepted.
Standard features & benefits
MasterCard ID Theft Protection™*
Receive enhanced protection solutions and access to a team of specialists to help resolve incidents or prevent further damage.
MasterCard Global Emergency Services*
Receive around-the-clock customer service assistance with lost and stolen card reporting, emergency card replacement, emergency cash advance, as well as assistance with locating ATMs and help with card-related questions.
Master Rental® Insurance/CDW*
Provides coverage for eligible rental vehicles.
Zero Liability*
You pay only for the purchases you have authorized on your MasterCard, and you won't be held liable in the event of an unauthorized purchase. This coverage extends to purchases made in stores, over the phone or online.
MasterCard Mobile Receipt Management*
Snap photos of receipts to help with organization and categorize expenses all through a mobile app.
MasterCard BIZ*
Social platform where small business owners can go for news, insights, and advice.
Adobe*
Subscribe to 12 months of Adobe Creative Cloud for individuals All Apps or Single App plan using your Debit Mastercard Business Card and enjoy an additional complimentary two months. Annual prepaid plans only. See terms.*
Uber Freight*
Manage all of your shipping needs with Uber Freight. Earn up to $1,000 in Uber Freight load credit with your Mastercard® Small Business card.*
Uber for Business*
Uber for Business is an all-in-one platform that helps companies manage ride, meal and delivery programs — and more. Receive up to $100 in Uber vouchers when you create an Uber for Business account for your company and make qualified purchases.*
Stride*
Stride is a health benefits marketplace that helps you save time and money when you need to secure coverage for health, dental, vision, life or other benefits. Through Stride, upon registering with your Mastercard Small Business card, receive a 30-day free trial of the My Medical Champion telehealth service.*
McAfeeTM*
Protect your business with a 30-day free trial and discounted one-year subscription to McAfee Total Protection for 10 devices at $34.50.* Plus, receive a one-year complimentary subscription to TechMate.
QuickBooks®/TurboTax® Offers & Discounts*
Receive discounts on these services.
With enhanced features and benefits, customers can turn good deals into great ones by adding value to purchases large and small with convenience, protection and more. Welcome to a faster, safer, more convenient way to pay.
To take advantage of any of these features or file a claim, simply call 1-800-MASTERCARD.

Save every day with the Mastercard Easy Savings® Program. Just use your eligible Mastercard small business card on qualified purchases at any participating merchant listed below. Your rebates will be automatically applied to your monthly statement. Click here to register at no cost and receive all of the program rebates. Plus, you can also add your employees' cards so they get these rebates as well, track your rebates on this site, and learn about new merchants and offers.
Additional Benefits
Fast & Easy to Use
Forget the hassle of purchase orders and waiting for reimbursement. City Bank's business debit card has you covered! Your City Bank MasterCard Business Debit Card can be used anywhere major credit cards are accepted at more than 25 million locations around the world. Just present your card, and enjoy quick and easy access to the funds in your business accounts.
Safe & Secure
Get up to four cards for authorized signers with separate PIN numbers to keep your business safe from unauthorized usage. The safety and security of a City Bank business debit card is backed by the MasterCard guarantee.
Convenient Record Keeping
Your business debit payment will be treated the same as a credit card transaction – you'll sign a transaction slip and receive a receipt. All transactions will be fully documented on your monthly account statement.
24-Hour ATM Access
Your City Bank MasterCard Business Debit Card doubles as an ATM card. Use your card after hours to make withdrawals and transfer funds. City Bank ATM transactions are free of charge to all City Bank customers.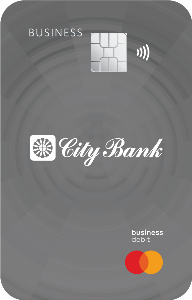 Get your FREE Business Debit Card today
Your City Bank MasterCard business debit card is a free service with a qualifying business checking account. For managing your day-to-day business finances, it's the only card you need. Contact a City Bank representative by calling 800-OUR-BANK or by visiting any of our convenient locations, and get started with your City Bank business debit card today.


MasterCard® is a registered trademark of MasterCard International Incorporated. *The descriptions of the listed benefits and enhancements are summaries only. Certain terms, conditions and exclusions apply. The information is provided on "AS IS" basis and for your informational purposes. It is not a specific recommendation for any particular action or investment and should not be relied upon in whole or in part as the basis for decision making or other purposes.